Choosing to go to therapy can be a big step. Although it may be difficult for them to be vulnerable around someone, going to therapy means they want to work on themselves. However, while counseling sessions are a great way to start, they may not be enough.
Therapy homework can sometimes get a bad rap. As a therapist, you may have experienced clients who become dismissive or irritated when you suggest they practice or reinforce a new skill. The homework you assign might be scary for your clients, or they might forget to complete it with a busy schedule.
While not every one of your clients needs homework, there are some benefits they can receive from it. Here's why therapy homework is beneficial to clients and how to increase the chance of success in supporting your clients with at-home tasks.
Are you interested in connecting with clients ready to transform their lives? Sign up for Ravel Mental Health to start guiding them!
What is Therapy Homework?
Therapy homework is when you send your clients home with reading materials or exercises to practice. This allows them to learn more about their mental health condition and healthy coping mechanisms. Then, when they experience a situation causing them problems, they can try healthy techniques to mitigate the symptoms and cope with their emotions.
Homework is also a vital component of Cognitive-Behavioral Therapy (CBT). As this approach to treating your patients targets the root of their behaviors, it can be as effective as medications in treating their mental illness or habitual problems.
CBT can greatly benefit from homework as it lets your clients practice what they've learned in therapy to deal with specific symptoms. Trying these methods out at home can help them learn to apply healthy coping techniques in various real-life situations rather than a prompted scenario they're given during their therapy session.
Therapy homework might include different things, such as symptom logs, self-reflective journals, and specific tools to work on obsessions or compulsions. These three categories of therapy homework that you can assign your clients can include:
Psychoeducation: Reading materials essential to the early stages of therapy to educate your clients on their symptoms, possible causes, and potential treatments.
Self-Assessment: Monitoring their moods and thoughts to help clients recognize associations between their feelings, thoughts, and behaviors.
Modality Specific: Assign specific and appropriate work to the problem your client is presenting.
These methods of therapy homework can be highly effective for CBT treatments that are meant for the client to recognize the cause of their behaviors and how they can change them.
What Are the Benefits of Assigning Therapy Homework?
Although your clients may be reserved about bringing homework that forces them to cope with their emotions, it can largely benefit them. When you first assign the work, they may be unsure about doing it because they may not understand the effectiveness of what this exercise will do for them, or they may be hesitant to confront their challenges.
However, giving them homework could be a crucial part of giving them supplemental work that will push them to get better. Although they may progress in your sessions, practicing and understanding their emotions outside therapy sessions will be completely different. And for them to get better in and out of the therapy sessions you provide, homework will force them to confront their problems and exercise healthy coping mechanisms.
When they can learn the tools of healthy coping through their own experience, this can give them a feeling of accomplishment and empowerment that they can help themselves. The confidence boost that they can get when recognizing their emotions, why they're feeling or acting a certain way, and how to overcome those challenges will enable them to continue getting better. Although you can help them along with their journey, they have to experience and learn how to get through difficult life situations themselves.
Some benefits that your clients will see from doing the therapy homework include:
Having an easier time tracking their progress
Learning a lot about themselves and their thoughts, behaviors, and feelings
Helping them bond with you on their experience and growth
Facilitating a faster progression through treatments
The potential benefits of assigning therapy homework for your clients will allow you to still provide support outside of your therapy sessions. It also helps patients who have limited access to therapy sessions due to factors such as affordability. So, giving them the tools to support their growth in and out of therapy sessions can tremendously affect their treatments.
Are you looking to grow your client base? Sign up for Ravel Mental Health to start connecting with clients looking for your services!
How to Ensure Clients Complete their Therapy Homework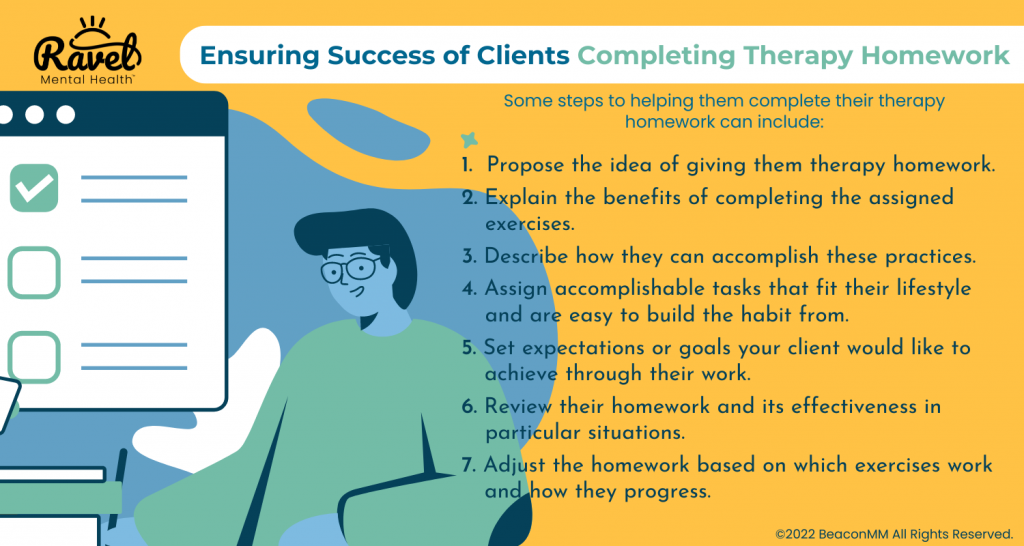 When you assign therapy homework to your clients, you will inevitably explain the benefits of how the homework will help them. However, for some, this may not be enough motivation to complete their homework. Some people may feel reserved about its effectiveness or hesitate to face their problems head-on. Others might just not like the idea of "homework" at all.
Although therapy homework can be highly effective, there are lots of reasons people might not complete it, including:
Internal Factors
Lack of motivation to change when experiencing negative feelings
Being unable to identify automatic thoughts
Failing to see the importance or relevance of homework
Impatience and wanting immediate results
External Factors
Putting in the required effort to complete pen-to-paper exercises
Inconvenience and amount of time to complete
Failing to understand the purpose of the homework, potentially due to weak instruction
Difficulties encountered during completion
Since many possible factors could affect your client's homework competition, it's essential to set them up for success. Although there is no guarantee that they will complete it every time, you can create a support system that enables them to use their motivation to get better. Some steps to helping them complete their therapy homework can include:
Propose the idea of giving them therapy homework
Explain the benefits of completing the assigned exercises
Describe how they can accomplish these practices
Assign accomplishable tasks that fit their lifestyle and are easy to build the habit from
Set expectations or goals your client would like to achieve through their work
Review their homework and its effectiveness in particular situations
Adjust the homework based on which exercises work and how they progress
Creating an easily accomplishable exercise for the client's treatments over time and adjusting to their progress can help support them through each stage.
When you can create a supportive and safe space for them to accomplish their goals, the success rate of their therapy homework can increase. And being open to adjusting the direction of their treatments will be crucial for reinforcing their positive behaviors and creating lasting change.
How Can You Connect With Clients That Are Ready to Change?
Ravel Mental Health can help you connect with clients that are ready to make changes to their lives. This online platform allows you to list your services so clients in need can find you.
Using the filters, clients can seek specific therapy services and avoid therapist mismatches. And with our online appointment tool, they can easily book an appointment with you based on your availability to avoid playing phone tag. You can accept their appointment and get excited to help someone new and grow your clientele base.
Ravel Mental Health is here to bridge the gap between clients and therapists if you're ready to help more people wanting to change or need help.
Are you ready to help someone's life get back on track? Sign up for Ravel Mental Health today to start connecting!