Choosing décor for your practice is just as important as anything else in your office. It reflects who you are as a therapist and if it's a safe space to talk. Many people need to feel comfortable or at home when they see their therapist for a session, so it allows them to talk about their emotions openly.
But how do you create a safe space where they naturally feel comfortable? Knowing your client base will help guide you in how to decorate your office, so it reflects you as a therapist and who your clients are. Here's a guide on choosing décor for your therapy office that resonates with your clientele.
Are you interested in connecting with new clients? Sign up for Ravel Mental Health today to get started!
Why Is Your Therapy Office Décor Important?
Creating a safe space for your clients to openly talk about their emotions is essential for getting them to feel good about talking to you. It can be difficult for your clients to find the courage to seek help for the problems they face with their mental health. So, having a space that reflects safety and comfortability is essential.
Whether they're going through an emotional time in their life with depression, anxiety, adjustments, or other heavy issues, going to therapy can be a tough decision. Since your client is making the steps to open up about their emotions, making your therapy office a safe space is meeting them halfway in their journey. For this reason, clients that often go to their first session may have feelings of apprehensiveness, vulnerability, and nervousness about trying something new.
How your office is decorated can help ease some of those tensions. Creating a safe space for them to seek professional help if your client feels comfortable allows them to open up and make meaningful progress with you on their mental health journey.
This is important whether you have an online or in-person practice. Going to an in-person practice may be intimidating to a new client, especially if they have preconceptions that the office will be sterile or uninviting. However, if you create a space that makes your clients feel like they're in a comfy longue or relacing hangout spot, rather than a medical office, you can help ease their anxiety a bit and more easily connect with them.
Therapists who have chosen to continue online therapy services also need a nicely decorated space. Establishing a relationship with new clients during a teletherapy appointment can sometimes be more difficult, making your office space just as important. Additionally, without meeting you in person, new clients might be more likely to doubt your credentials and expertise. If they can see that your office space is professional and tidy, it can be a way for you to build trust with them.
Since your office space will leave an impression on your clients within seconds, you must ensure that you've chosen the right decorations that speak to them.
How to Choose Your Target Audience
The easiest way to start your journey of decorating for your clientele is to understand your target audience. Knowing what kind of client to attract can help you identify your specialty as a therapist but also help you strategize how to connect with them.
First, analyze what kind of therapy services you're offering. If you're offering therapy services to women, you can find empowering paintings of women. If you specialize in pediatric therapy, you might want to use a brighter color palette, kid-friendly decorations, and a waiting room that includes toys and other items to help ease children's anxiety as they wait for their appointment.
Knowing your target audience will help you identify what kind of decorations you need in your office. You can still choose things you like but try to think about pieces that will identify with your clientele.
Ask yourself what decor will most resonate with them. Trendy décor that makes their therapy feel cool? Or a calming and soothing theme with softer colors that promote peace.
To understand your client audience, you can think about who typically seeks your services and whom you want to help.
Are you interested in having your target audience find your services? Sign up for Ravel Mental Health today to get started!
What Factors Should You Consider When Decorating Your Therapy Office?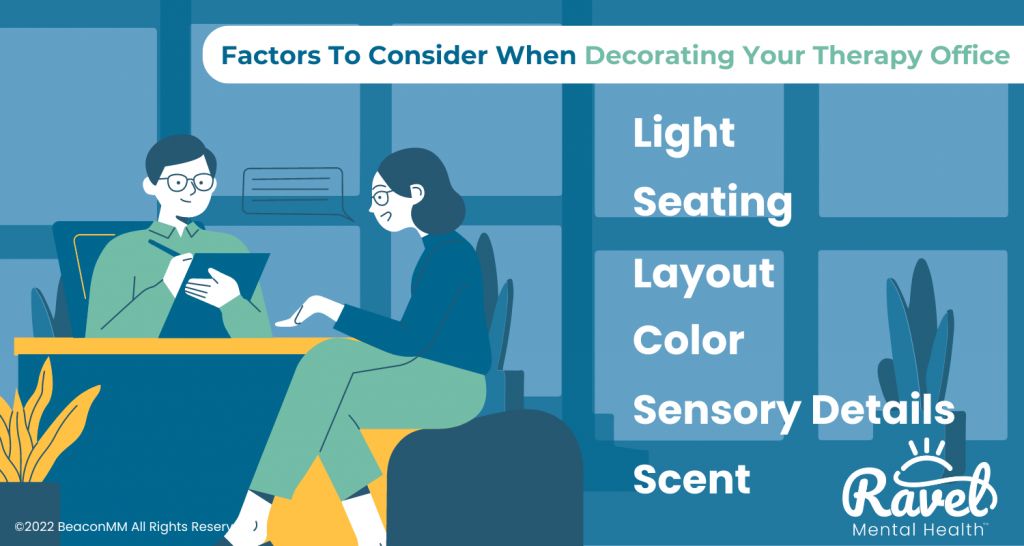 After choosing your target audience, it's time to find pieces that work well with your office space and client base. Consider the following when choosing your therapy office décor.
Light
One of the things that can help set the mood of the session and office is the lighting. Does your office have bright, harsh, or fluorescent lighting? This can be uninviting to many, so choosing a softer, calming alternative or windows that provide natural light will help establish a safer mood.
Seating
Something that may be overlooked is how your seating is set up in your office. Where will your client sit? It doesn't have to be a beautiful couch, but you should try to get one that is comfortable and soft. You should think about where your clients will sit in relation to you and how that might make them feel.
Layout
The organization of your room will be important for how you portray yourself and impact how your clients feel. Ensure that there's enough space between you and your client, but not so much that they feel isolated. Try reducing clutter, so they're not distracted by an unorganized mess or distracting decorations.
Color
The color of your office space is extremely important as colors can heavily impact people. The color of your walls, seating, art, and more should all be calming with neutral colors and cool shades that evoke feelings of relaxation. Aggressive colors can intimidate someone and make it harder for them to get comfortable in the space.
Sensory Details
Even choosing decorations with different textures is important. Some people will focus on textures if they're having difficulty opening up. It would help if you had smooth and soft textures that make them feel comfortable rather than scratchy or difficult to look at decorations.
Scent
Scents can be a very impactful sense on how comfortable it makes someone in a space. Avoid strong scents as you may enjoy a particular smell, but your client may not. You should include subtle scents that resemble fresh, natural fragrances that make someone relax.
What Can Ravel Mental Health Do for Your Therapy Practice?
Are you looking for more clients? If you're ready to grow your practice, you can sign up for Ravel Mental Health to help connect with more clients.
This platform lets you list your services and allow clients to find your services easily. They can book appointments with you directly on the platform with our scheduling program. Then with one click, you can accept their appointment requests and avoid playing phone tag with them to set up a session.
Ravel Mental Health is working towards decreasing the number of client and therapist mismatches. We will help you connect to clients that are looking for your therapy services and get you connected with the right people. Don't wait to see how we can help you grow your practice; sign up today and get started.
Are you interested in finding the right clients? Sign up for Ravel Mental Health today to start connecting!