Growing your mental health practice is probably one of your main goals. However, this won't happen without some problems arising.
It can be difficult to juggle treating patients, running the office, and handling your practice's finances. Even if you hire new people to help treat patients or take calls, it can be challenging to balance everything so that it grows at a pace you can manage.
How can you mitigate some of the complications of growing your clinic? If you're expanding your mental health practice, here's a guide on coping with growing pains.
Are you interested in connecting with new patients? Sign up for Ravel Mental Health today!
Why Should You Expand Your Practice?
Expanding your mental health practice can be an exciting but overwhelming venture. It means that you're taking on more clients and possibly expanding your staff and locations. It can seem like an impossibly daunting task, from hiring clinicians to treating your patients.
However, by expanding your practice, you'll be able to accept more patients who need your services. There is a large demand and supply gap within the mental health industry, and expanding your practice can help close that gap.
Even if you want to see more patients, there is a limit on how many you can treat by yourself. It takes a large effort to give each client the attention they deserve. This means that expanding your team of clinicians and locations is vital to helping the people in need.
What Does Expanding Your Mental Health Practice Look Like?
The way you expand your practice can vary drastically from the mental health services you provide. However, there are some key ways that expanding your services can look like.
Growing your practice can include hiring a clinician team. This will help provide more services that align with the mental health specialty you're already providing or expand to a new niche. Either way, hiring more clinicians will allow you to treat more patients.
It could also mean hiring a clerical team to handle scheduling client appointments and answering calls. Having someone on staff for this job can benefit your practice as it allows potential clients to get the information they need and book appointments. It'll allow you to have more time to focus on the treatment of your patients rather than the menial tasks that may take a large chunk of your time.
Expanding your mental health practice can also include offering more in-person or online counseling services. You can integrate this into your practice either as a full-time or hybrid service. This allows clients the option of a flexible appointment schedule and the option for the client the treatment type that works for them.
You can also consider expanding your therapy services to new types of therapy. Many mental health professionals are expanding their treatment types to niches such as holistic therapy or culturally sensitive therapy. Adding these specific elements to your practice service list allows you to reach a new branch of clientele that isn't being treated to the extent of other specialties.
Are you ready to expand and find clients that need your specialty therapy? Sign up for Ravel Mental Health today!
What Tools Can You Use to Mitigate Growing Pains?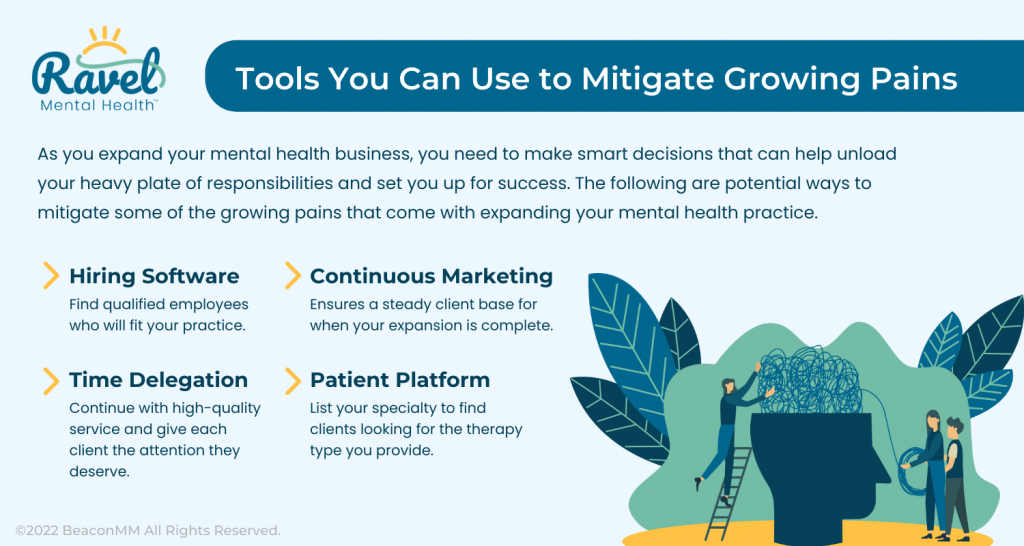 Whether you're a solo provider or have a full client load in addition to running your mental health practice, it can be difficult to continue meeting patients on top of other duties. Scaling back on how many clients you see may not be an option, and you can't ignore answering phone calls or questions that potential clients may have. Even if you hire more people, some of these growing pains can be hard to avoid.
So, as you take a big step in expanding your mental health business, you need to make smart decisions that can help unload your heavy plate of responsibilities and set you up for success. The following are potential ways to mitigate some of the growing pains that come with expanding your mental health practice.
1. Use Hiring Software
Using hiring software can be a great way to find qualified employees who will fit your practice. It can take a large chunk of time to sift through applications to find the right clinicians and office staff; however, it will pay off in the long run.
The hiring software can help you find clinicians that fit into your specialty or expand to new niches. It can also help you find people for the clerical work of your practice. And a bonus to using multiple hiring software is the brand awareness you can get.
2. Delegate Your Time
Between all of the responsibilities you may have, it can be difficult to balance everything Purposefully delegating your time to specific tasks can ensure you continue with high-quality service and give each client the attention they deserve.
You may need to temporarily cut down time on the number of hours you dedicate to seeing patients and take time to identify what tasks you can delegate to someone else. Creating a specific time allotment for your projects can save you from jumping in between tasks and keep you from running into mistakes in the future.
3. Use Software to Connect with Patients
There is software available, such as Ravel Mental Health, that allows you to reach a wide range of clients. It can make it easier for clients in need to find your practice and book an appointment with you directly through the platform.
Whether you're a solo practitioner or have a full clinic, Ravel Mental Health allows your potential clients to schedule a session with you based on your available time slots instead of playing phone tag. You'll also be able to list your specialty to find the clients looking for the therapy type you provide.
4. Don't Stop Marketing
Even if you're feeling overwhelmed by the increasing workload, you shouldn't stop marketing your mental health practice. You'll ensure that you have a steady client base ready for when your expansion is completed by continuing your marketing efforts.
Also, using marketing tools such as social media and blogging allows potential clients to learn more information regarding your practice and build trust with you. It spreads more brand awareness and will allow you to continue expanding your practice.
Why Should You Use Ravel Mental Health to Expand Your Practice?
Ravel Mental Health is a platform that will revolutionize your mental health practice. It works to connect you with potential clients in your area easily. They can check your availability and schedule an appointment with you without a phone call.
If you're running your own business, it'll maximize your efficiency by accepting appointments in one easy click. You'll avoid turning people away due to a lack of availability. With the available filters on the platform, you'll find qualified patients that increase your chances of connecting with the right people.
This platform is an easy way to expand your practice by connecting you with clients in need. All the clinicians at your practice can use this to find clients that fit their specialty. Don't wait to expand your practice. Help close the demand gap.
Are you ready to connect with new clients? Sign up for Ravel Mental Health today!