Growing your therapy practice can be exciting, but expanding your services can bring about some growing pains. You may grow too quickly and be unsure how to accomplish everything by yourself or hire clinicians that may not be the right fit for your practice. Knowing when it's time to expand your practice and how to do so can be challenging.
However, there are signs of when it's time to expand your practice and hire new clinicians. If you have dreams of turning your individual practice into a group practice, you can learn about what factors to consider. Here's a guide on how to hire clinicians for your therapy practice and why expanding your services is important.
Are you interested in getting more clients for your practice? Sign up for Ravel Mental Health to start gaining more clients!
How to Know It's Time to Expand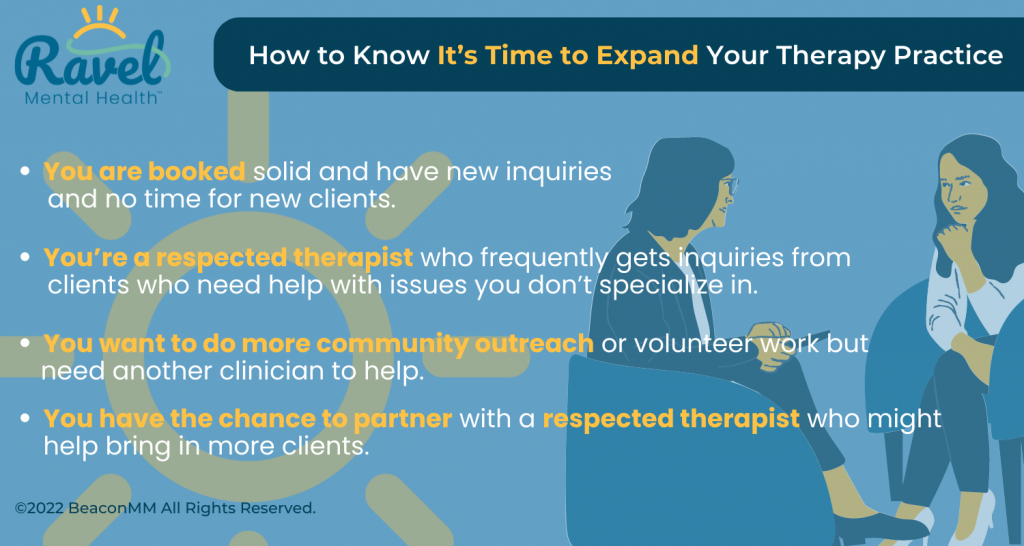 Are you getting more calls for therapy sessions than you can handle? Do you want to offer new modalities, therapies, and session types? Do you have dreams of growing your practice or reaching clients in other locations? These are some signs that it's time to expand.
When you've established a good clientele base, you may wonder what's next. You may want to expand how you provide your therapy sessions or even incorporate new therapy treatment methods. These are ways that you can consider expanding your practice.
While you may feel the motivation to accomplish it all right away, you should consider a game plan that builds your business over time. If you try to do too much too quickly, there is a chance you won't be able to maintain the client load by yourself as you grow. This can lead to you not spending more time with your clients or not being able to take more phone calls to book appointments, leaving you with fewer clients in the end.
If you do a slow progression over time, it allows you to expand your services in a way that it's sustainable. You can prepare for sustainable growth by finding a clinician that offers different services than you to bring in more clients with diverse needs.
Therapists who are considering expanding their practice to a group practice and can no longer handle the workload alone should consider the following signs:
You are booked solid and have many new inquiries but no time for new clients.
You're a respected therapist who frequently gets inquiries from clients who need help with issues you don't specialize in.
You want to do more community outreach or volunteer work, but you need another therapist or two on staff to accomplish these goals.
You have the chance to partner with a respected therapist who might help bring in more clients.
Growing your practice will include challenges, such as learning how to manage your team, increasing your liability, adding more expenses, and communicating to move past interpersonal challenges. Although these challenges may make it harder to expand, approaching them with a positive attitude can help you overcome them.
Why Should You Expand Your Practice
When expanding your practice, you should consider the benefits of doing so. Some benefits of expanding your practice can include:
Better marketing with more clinicians and services available to reach a broader audience
More time to work with clients and manage other duties
More money coming through your practice to pay for office space and other expenses
Help and support from other therapists will help the team overcome challenges
Pride in building a business that is helping more people in your community
When you expand your practice, you're helping bridge the gap between client demand and available therapists that can provide services. You'll be able to accomplish your dreams of expanding your practice and providing your community with more mental health support.
Do you want to expand your practice by bringing in more clients? Sign up for Ravel Mental Health today to get started!
How to Hire New Clinicians for Your Therapy Practice
If you've decided that it's time to expand your practice and set up your business to accommodate the change in clientele, you have to hire clinicians. This process can be challenging as you're trying to find the right person for your clinic. However, you should consider some key factors when trying to hire someone for your growing therapy practice.
Experience
One of the most important factors you need to consider when hiring someone is their experience. Like any job, it's important that you hire someone with experience who can bring positive services to your clinic. If they have experience, there is a potential that they'll have clients that come with them to your clinic.
If you're struggling to find a more experienced therapist or have a passion for helping emerging clinicians to develop their skills, you can also hire someone with less experience that has a lot of potential to grow into the position. You should, however, consider that this will require more training and resources on your end to help them develop their skills.
Specialty
A great way to expand your practice is to bring on someone that could expand the specialty of services you provide. If you're interested in expanding your specialty to new methods of therapy, such as holistic therapy, then bringing on someone that offers that can be a great way to expand your practice.
Future Growth
Something that you want to look for is someone that will help your clinic grow. This means you can bring someone who will help with administrative tasks or help you find ways to expand your business. If you want to continue your sustained growth, finding someone to aid you is essential.
BIOPC Clients
When trying to find clinicians to grow your practice, consider what kind of clients you want to help. Some clients, such as BIPOC people, may want to see a clinician that matches their background to feel better understood. You can find someone who practices therapy with a culturally sensitive approach to help bring more diverse clients.
How Can Ravel Mental Health Help You?
Are you looking for more clients to expand your practice? If you're ready to grow your practice, you can sign up for Ravel Mental Health to help connect with more clients.
This platform lets you and your clinicians list your specialties and allows clients to find your services easily. They can book appointments with you directly on the platform with our scheduling program. Then with one click, you can accept their appointment requests and avoid playing phone tag with them to set up a session.
This can help you and your clinicians connect with more clients to expand your client base and reach your practice growth goals. This platform can help you connect with clients in your area with new methods instead of relying on therapist directory listings and referrals.
Ravel Mental Health is working towards decreasing the number of client and therapist mismatches. We will help you connect to clients that are looking for your therapy services and get you connected with the right people. Don't wait to see how we can help you grow your practice; sign up today and get started.
Are you ready to start connecting with new clients? Sign up for Ravel Mental Health today to get started!