Healthcare can be expensive, possibly turning you away from seeking mental health services. In a time like today, anxiety and other mental conditions are running high. It may have become challenging to complete daily tasks.
If that's the case, rest assured that there are still ways to receive mental health care affordably. With evolving psychotherapy practices, you can get treated in a way that best suits you. Here are five ways to make mental health care affordable.
Are you interested in connecting with a therapist in your area? Sign up for Ravel Mental Health today!
Why Should You Seek Therapy?
Therapy is a form of investment. It's a way to invest in yourself and ensure that you're going in the right direction while not letting negative conditions affect you. If you're working on yourself or finding ways to maintain a balanced life, it can allow you to grow to your fullest potential.
Mental health can take affect many areas of your life if left alone. You may have noticed signs of possible mental health conditions that you'd like to sort out or need someone to help guide you in the right direction.
If you're going through a mental health condition such as anxiety, depression, chronic stress, or PTSD, you can get help through therapy before it affects your life. Even if you've noticed that it's hindered your ability to work or maintain relationships, therapy can help you rebuild those areas of your life.
Seeking mental health care is easier than ever with more acceptance around the subject and the variety of ways to access this care. You shouldn't let the cost affect your ability to reach your fullest potential.
What Are Ways to Make Mental Health Care Affordable?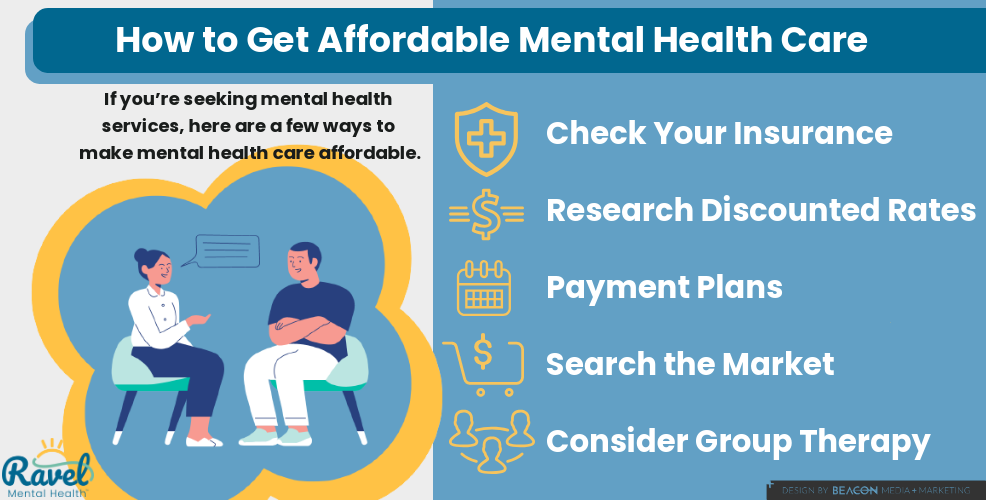 Some people may take their mental health care into their own hands by analyzing conditions that they may have or even seeking helpful tips online for treatment. They can implement practices in their life that may help mitigate their mental health symptoms, but that may not be enough.
Although the initiative is great, professional help is highly beneficial. Getting help is okay, and you should be able to do so no matter your finances. So, if you're seeking mental health services, here are a few ways to make mental health care affordable.
1. Check Your Insurance
If you have insurance, check your benefits, as many insurances incorporate mental health care into their plans. Even some employers are integrating mental health services into their benefits package. You can search for a therapist in your area that will take your insurance.
Some of the best mental health insurances this year include:
Best Overall: United Healthcare
Best Telehealth Coverage: Cigna
Best Affordable Plans: WellCare
Best Prescription Drug Coverage: Kaiser Permanente
Best for Talk Therapy: Humana
Best Mental Health Resources: Aetna
Medicare covers many outpatient and inpatient mental health services such as depression screening, individual and group psychotherapy with doctors, medication management, and more. Medicaid recipients can benefit from a wide range of services since they are the single largest payer for mental health services in the U.S.
2. Sliding Scale and Discounted Rates
If you don't have health insurance or your therapist doesn't take insurance, you may still have options. Some practices can work on a sliding scale option based on your income. You can discuss this with your therapist before or during your first session.
Many therapists will adjust their hourly fee to match your income or base it on the financial resources you can put towards therapy. However, you need to be the one to ask.
There are options to get discounted rates on sessions. While the sliding scale is based on income, a discounted session could include a shorter session that costs less. If you can, you can also consider meeting with your therapist less often, such as every other week.
It's not advised to meet less than once a week, as some research suggests that meeting more frequently can lead to quicker improvements. However, if you're unable to attend weekly sessions, this can still be an affordable option.
Are you ready to find an affordable therapist? Sign up for Ravel Mental Health today!
3. Payment Plans
Another option is to work with your therapist to create a payment plan that works for you. It can be a great way to make lower payments but still receive the same care.
Cost is not a taboo subject, and talking to your therapist about it is essential to the transparency between you and your therapist. You should feel comfortable discussing your ability to pay with your therapist. If it makes you uncomfortable, this is a chance to reach a new ground of trust with them.
If your therapist isn't willing to work with you at an appropriate cost, you can find one that does. Many therapists are willing to reduce the cost of sessions for their clients if needed. You need to find one that wants to work that out with you so you can receive care.
If you're having concerns about the cost, your therapist needs to know that so they can help you still receive the care you want and need. They won't judge you for asking for help. So, reach out and see if creating an affordable payment plan for your therapy is an option.
4. Search the Market
Although many people take a long time researching therapists in their area to find the right match for them, they may not think to search the market for unique mental health services. An affordable option may be with a therapist in training, at a university or church, at a community mental health center, or online.
These options allow you to find something in your realm of comfort and give you a way to pay for them. You'll have to search for those options available in your community as they vary in every city.
Online options are versatile and allow you to get the help you need with a flexible schedule. Some people find that they're more comfortable with online therapy and better suited for their lifestyle.
Since these options are for the community, they can be more affordable than going to a therapist with their own practice.
5. Consider Group Therapy
Some people may feel more comfortable in a group therapy session. It's a way to get support from multiple people while having the guidance of a professional.
Having the support system in place can allow you to bond with other people that may be experiencing the same thing. It's comforting to know that you're not alone and have a built-in help from people that care about you.
Group therapy can sometimes be cheaper than an individual session with a therapist, often a third of the price. If group therapy sessions are available in your area, it's worth checking the cost compared to individual sessions.
Although some people like group settings and are willing to share their experiences with many people, you may not feel comfortable doing so. And that's okay too. Finding whatever option works best for you is the most important thing.
How Can Ravel Mental Health Help You?
Ravel Mental Health is an online platform that can connect you to therapists in your area. Instead of going down the rabbit hole of checking every therapist's website to see if they're a fit, it's compiled into one convenient place.
Once you've found a therapist that you'd like to connect with, you can book an appointment with them with just a few clicks. You can avoid the hassle of playing phone tag with a therapist to set up an appointment.
Ravel Mental Health is here to make your mental health journey easier by helping you find the therapist that is right for you and your wallet.
Are you ready to find an affordable therapist in your area? Sign up for Ravel Mental Health today to get started!