Therapy can be an expensive necessity. And even though the demand for mental health services is enormous, it's not accessible to everyone, even when people choose alternative therapy methods such as online therapy try to find more affordable services.
Many private practice therapies opt for a sliding-scale fee to make their services more affordable to the clients – especially those without insurance or those in a lower-income bracket. Here's what you should consider when setting sliding-scale rates to make your services affordable while ensuring your practice remains successful.
Are you interested in connecting with the right clients? Sign up for Ravel Mental Health and start connecting with clients in your area today!
What is a Sliding-scale Rate?
Sliding-scale fees or rates refer to how much you charge your clients, depending on their income. Instead of setting a fixed rate, you can offer a sliding-scale that offers a cost range that is adjusted depending on your individual clients' needs.
This structure offers reduced fees for those who need it (and for their dependents) so they can still receive therapy even when they would otherwise not be able to afford it. Sliding-scale structures can also be offered to those who don't have insurance and have to pay for the entire cost of the sessions out-of-pocket. Some therapists can also allow their clients to use insurance and a sliding-scale rate that depends on the therapist and the insurance provider.
The typical cost of therapy varies, but the average range is from $100 to $250. The rate you charge can differ for your peers as your credentials, specialty, and nature of your practice (private, community-based, non-profit organization, single practice, group therapy, etc.). Many therapists choose to do a sliding-scale as it allows clients to get the therapy they want. It means you're not excluding groups of people from having accessibility to care.
People in lower income brackets or looking for a BIPOC therapist who understands them may be limited in their options. A sliding-scale can help dissolve the therapy demand and provide services to those in need.
What Factors Should Be Considered for a Sliding-scale Fee?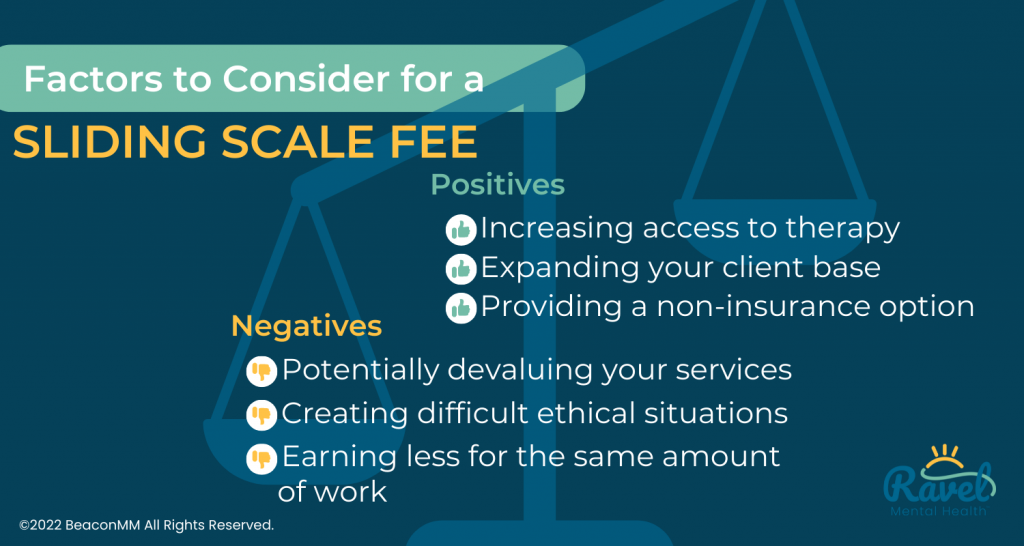 The pressure of deciding when to implement a sliding-scale fee in your practice can be difficult. You may feel pressure from colleagues or clients to offer this service. But there are several factors to consider before adding it to your practice.
It's important to remember that you're not tied to offering sliding-scale fees, but it offers one option for how you get paid for your services. If you decide that a sliding-scale fee is right for your practice, consider the following positives and negatives to see if this best fits the service you provide and the impact you want to make.
Positives of Offering a Sliding-scale Rate for Your Therapy Sessions
There are several reasons to offer a sliding-scale rate for your clients. Some positives include:
Increasing access to therapy. Providing a sliding-scale rate allows people who typically can't afford therapy a chance to get your services.
Expanding your client base. You'll possibly get more clients or cases if you offer unique services and prices, expanding your clientele.
Providing a non-insurance option. Although you could pair a sliding-scale with insurance, those who don't have insurance have more options with this service.
Negatives of Offering a Sliding-scale Rate for Your Therapy Sessions
Although you expand access to people who can't usually get therapy services, there are also a few reasons why implementing sliding-scale fees in your practice might not be ideal.
Devaluing your services. Lowering your prices will decrease your sessions' financial value, which can feel disheartening or negatively impact you.
Creating difficult ethical situations. If you provide a scale, you'll have to choose what factors of someone's condition lower or raises their costs.
Earning less for the same amount of work. You will most likely be booked up, but with your services at a lower rate, you're potentially earning less than you could.
Are you interested in how Ravel Mental Health can transform your therapy practice? Take a look at what we have to offer!
How to Calculate a Sliding-Scale Therapy Fee
Every therapist will set their sliding-scale fee at a different rate based on location, specialty, service, and many other factors. With a flexible payment option structure, it can be difficult to know exactly how to set sliding-scale rates. Some ways to determine your sliding-scale rate include:
Consider how many clients you will take through your sliding-scale system.
Determine your minimum and maximum session fees based on your experience, certifications, and monthly costs.
Evaluate how much time you can provide for your sessions and outside required work for your clients on the sliding-scale.
Ensure your sliding-scale policy abides by your other practice contracts, such as not being able to charge different session fees.
Understand your financial situation to ensure you make enough to cover your lifestyle and practice expenses.
Decide a fair rate based on your client's typical income, expenses, and therapy needs.
A 2008 article in Counseling Today provides a sample formula you can follow to set your session rates: [.001] X [client's family or individual yearly income]. This is a guideline; however, therapists can have levels or fees and assign certain income ranges to each level.
Some therapists use an honor system that results from trusting their clients to report their income and financial hardships fairly. You can ask for proof of income or dependents through documents such as a tax return. This is to ensure that you abide by similar rules per income bracket.
How to Find the Right Clients
If you've set up your sliding-scale rate, now is the time to find the right clients. And when people are looking for therapists that can match their needs, you need to advertise that your practice offers an adjustable price fee.
Ravel Mental Health is here to help you connect with the right clients. As an online platform, we work to bridge the gap between therapist demand and mental health professionals looking for clients. Our online platform allows you to create a therapist profile that will provide your certifications, services, specialty, and if you offer a sliding-scale rate.
Then when people are looking for therapists that match their needs, they can use our filters to find you. And to improve things, they can easily book an appointment with you through our calendar feature. All you have to do is insert your availability and accept appointment requests. You'll no longer have to waste time playing phone tag.
Ravel Mental Health allows you to show the best parts of what you do. And showing potential clients in your area that you offer a sliding-scale rate will enable them to book a session with you. Don't wait to start connecting with the right clients; take charge and grow your clientele base so you can help more people with your amazing services.
Are you ready to help dissolve the therapy demand gap? Sign up for Ravel Mental Health today to connect with clients in need!