Online platforms are one of the best methods of growing your clientele base, especially if you put time into making a mental health profile that represents your services well. Although you can still use techniques such as referrals and therapist directory listings, one of the best ways to invest your time is through online methods that reach a broad audience.
Most people will search online if they're looking for services. They'll often use terms like "therapists near me" and use that to research which counseling services will suit them. This makes a great online profile essential for converting clients.
And getting someone to look and invest time into your mental health profile can be difficult. You may only have a few seconds to grab somebody's attention before they scroll past your profile.
So, how can you make an eye-catching online profile that converts clients? Here's a guide on eight tips for your mental health therapist profile that will help you grow your clientele base and why Ravel Mental Health is a great option for growing your practice.
Are you interested in reaching new clients in need of therapy? Sign up for Ravel Mental Health today to start connecting!
1. Invest in Professional Headshots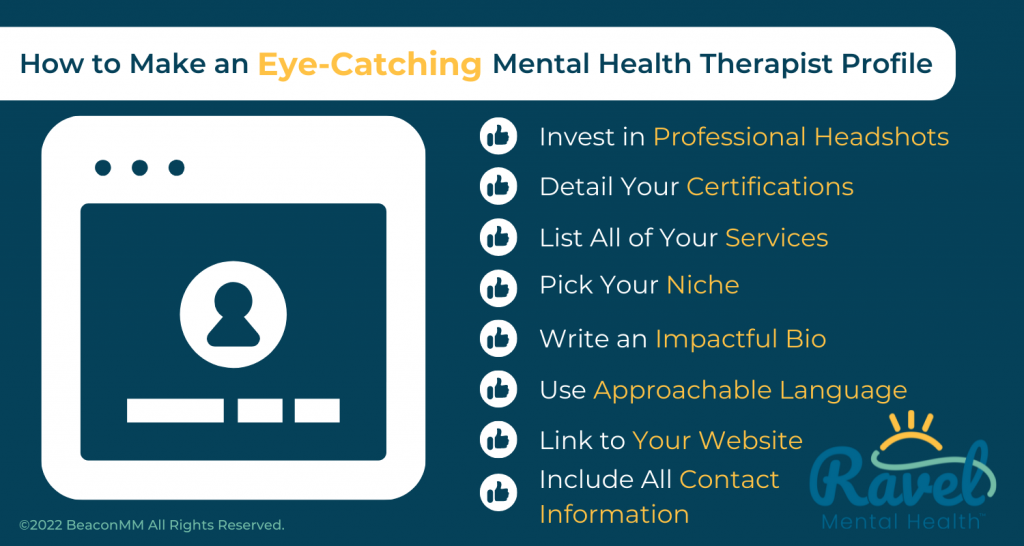 An online profile for therapists needs to feel welcoming and trustworthy. People looking for therapists want to feel safe and heard by them. And one way for you to do that includes having a professional headshot.
Investing in a good photo of yourself can take you a long way. You can use this photo for your therapist profile and on your website. When the pictures are high quality, it helps represent a professional and trustworthy person that will be more inviting to people.
This profile picture will be one of the first things people see about you. So, you should ensure that it has the following qualities:
You look friendly and inviting. Having eye contact in your photograph will help people feel welcomed.
You present yourself confidently. This can help reassure people that you are confident in your knowledge and services.
You are relatable. Showing someone they can relate to you will help build trust, which can be good for BIPOC clients.
Ensuring that you have a good photo shows people that you are professional and care about your work. It'll help people connect with you and feel the need to seek out your services.
2. Detail Your Certifications
Although a picture of yourself can take you a long way in building the initial foundation for trust, so does your experience. People's mental health can be sacred, and sharing that part of themselves with someone can often be intimidating and uncomfortable. However, when you can show your qualifications, it helps ease some people's anxieties.
When someone knows you are qualified in a specialty or are trained in a certain treatment, they'll feel better about seeking your help. They'll see that you have the experience to give them the care they need. Ensure that you list your certifications on your mental health therapist profile so people know what specialty services they can get from you.
3. List All of Your Services
Similar to sharing your certifications, listing all your services are essential for bringing people in. Often mental health conditions and symptoms, such as anxiety and PTSD, can overlap. If you offer unique treatments or services that treat both mental health conditions, people will feel more inclined to get help from you.
Showing you provide multiple services can often help you grow your clientele base and provide people with a quick insight into your services. People want to know the kind of treatments you offer, such as holistic therapy. If you offer a unique service, they may feel inclined to learn more on your website and schedule an appointment with you.
4. Pick Your Niche
Although providing a wide range of services can be great, you may not want to broaden your niche.
When you choose your niche, it helps you invest more time towards that specific mental health condition, therapy modality, or demographic and allows you to learn more and find techniques that work better for your clients. It'll also help people within that niche find you and learn more about your services.
Are you ready to find clients looking for your therapy niche? Sign up for Ravel Mental Health today to get started!
5. Write an Impactful Bio
Your biography can be a great selling point to people looking at your mental health therapist profile. While your profile picture is a great start, the bio can be the thing that makes someone feel a connection to you.
Write a short but impactful bio that is around 300 words. The description should explain who you are, why your services are unique, and how you can help that person. It will help if you write in the first person, so you're more personable and can show your caring nature.
6. Use Approachable Language
There is a fine line between showing that you're educated in your field and being unapproachable. Much like in a therapy session, you don't want to use complicated or confusing language that's confusing or belittling to your clients. Although you know acronyms and jargon that make sense to you, don't use these phrases with people who have never studied psychology.
If you use complicated language, it can often turn people away. Instead of relying on that jargon, try using approachable words that are easy to understand, such as "I am trained in Cognitive Behavioral Therapy," instead of "I am trained in CBT."
7. Link to Your Website
Your mental health therapist profile should link to your website. Doing this ensures that people can research more about your practice and learn if you are a good fit for them.
Your website should have all of the information that they need to know. This can include more details about your unique services or niche, more about you, and how your services are suited for their needs. Providing this resource for your clients makes it easy for them to learn more and easily connect with you for an appointment.
8. Include All Contact Information
Although all of these elements are essential for connecting with your potential clients, one of the most important aspects is including all of your contact information. This can include your phone, email, hours of operation, and location.
Providing all this information will ensure that your clients have the right details to communicate with you. If you don't have your contact information, they won't be able to book an appointment with you and find out more about your services.
How Can Ravel Mental Health Help Your Practice?
Ravel Mental Health is an online platform working to close the demand gap in the mental health field. It works to bring clients and therapists together to book appointments and avoid a mismatch easily. With advanced filter features, people can look for the type of therapy services they need and connect with a therapist in their area.
This platform works with your available schedule and allows clients to book appointments online. All you'll need to do is accept it in a few clicks. You won't have to worry about playing phone tag to book an appointment with a client.
With Ravel Mental Health, you can list your eye-catching mental health therapist profile so people can connect with you easier. Together, we can meet the needs of people with mental health conditions searching for help.
Are you ready to take your mental health practice to the next level? Sign up for Ravel Mental Health today and start connecting with new clients!