Seeking mental health help is a great thing to do, but choosing the right type of mental health provider can be difficult. If you're struggling and need someone's professional help to guide you through that journey, getting counseling can be extremely beneficial. For some people, receiving this level of help for their mental condition can often help them mitigate the severity of symptoms and are provided exercises to help.
Some people's mental health conditions can negatively affect their daily life. It can impact the person's work or personal relationships. And getting help can mitigate or dissolve the problems that may be affecting their life.
And while seeking help is great, you may not know where to start. There are several mental health providers to choose from, so knowing which is best for your needs can be overwhelming. In this blog, we'll help you differentiate between your choices and provide a few tips on how to make the best choice for your needs.
Are you interested in connecting with a mental health professional in your area that suits your needs? Sign up for Ravel Mental Health today!
Why It's Important to Find the Right Mental Health Provider
Finding the right provider can greatly benefit your overall well-being. A person's mental health is sacred, and ensuring that you nurture that part of yourself with the right help is critical.
You need to find someone you can confide in and give you the right treatments. People who mismatch with a mental health provider can sometimes receive a negative impact. They may have a bad experience that leads to not wanting to receive help again, even if they need it.
So, finding the right provider ensures that the treatments you get suit your needs and help you get through your situation.
What Kind of Mental Health Providers Are There?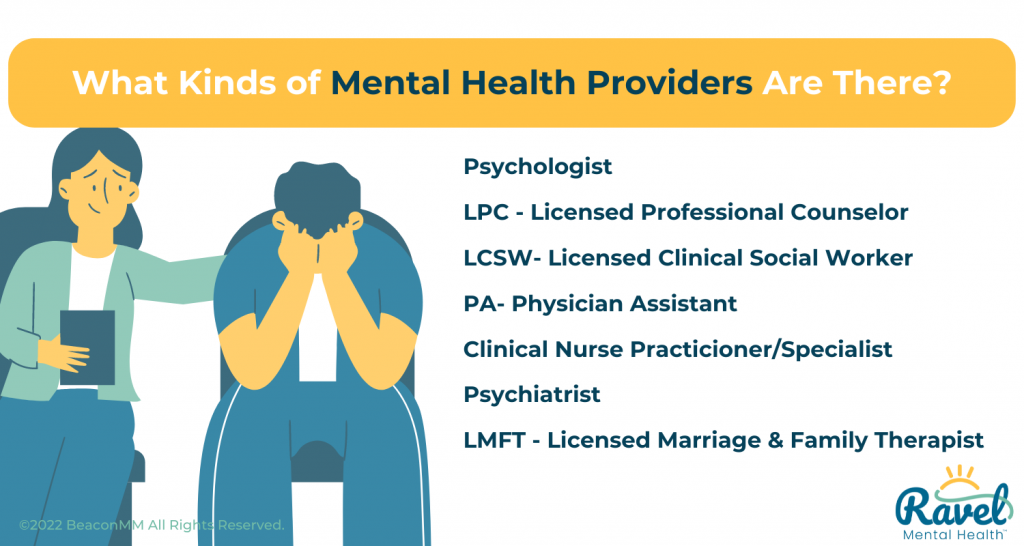 There is a wide range of types of mental health providers that you can see to suit your needs. They have different specialties and levels of care they can provide to better support you. Knowing the level of care you need can help you avoid a bad match with a counselor.
Some clinics can have multiple types of mental health providers on site. For example, they may have a psychiatrist on staff or refer you to an outside clinic for psychology.
The following types of mental health providers can help you with your struggles.
Psychologist
Psychologists can help treat people with many kinds of problems. People may speak with a psychologist if they're feeling depressed, angry, or anxious for long periods. Some people have chronic conditions that interfere with their life, while others try navigating the anxieties of a new job. Whatever it is, a psychologist can help people.
They typically help someone learn coping mechanisms for stressful situations, overcome addictions, manage their chronic illness, and conduct tests to help diagnose a condition. Psychologists can provide counseling and psychotherapy but can't write prescriptions or perform medical procedures.
Licensed Professional Counselor (LPC)
Licensed Professional Counselors provide mental health and substance abuse care. They are trained to work with individuals, families, and groups in treating mental, behavioral, and emotional problems and disorders.
This profession takes up a large percentage of the workforce for mental health professionals working in health centers, agencies, and organizations. They can help empower you for your mental health, wellness, education, and career goals. Counselors are prepared to help you overcome obstacles and personal challenges that you're facing.
Licensed Clinical Social Worker (LCSW)
A Licensed Clinical Social Worker provides emotional support, mental health evaluations, therapy, and case management services for those who experience a psychological, emotional, medical, social, or familial challenge.
A Clinical Social Worker will provide you with general counseling services, crisis intervention, mental health therapies, substance abuse support, and other key services. They'll help you in times of need by diagnosing a disorder and developing a treatment plan to suit your needs. They'll consult with doctors, therapists, and other medical professionals to see the best option to support your mental health.
Are you interested in finding a therapist in your area? Sign up for Ravel Mental Health today!
Physician Assistant
A Physician Assistant has responsibilities that include examining and counseling patients, diagnosing illnesses and injuries, requesting diagnostic tests and interpreting results, creating treatment plans, prescribing medications, performing medical procedures, and assisting in surgery.
Many Physician Assistants will help people with their mental health while in a treatment center. They'll help address substance abuse, prescribe controlled medication, identify and manage medication misuse, and identify addictive drugs. If you need medication support for your mental condition, a Physician Assistant can help you.
Clinical Nurse Practitioner/Specialist
A Clinical Nurse Specialist is an advanced practice registered nurse that can help assess, diagnose, and treat patients. They can help prescribe medications and offer support through difficult times.
You can also receive care that includes medication interventions and psychotherapy. If you're struggling with substance abuse, a clinical nurse practitioner can help you in a clinic suited to help you through recovery.
Psychiatrist
A psychiatrist specializes in the study, diagnosis, prevention, and treatment of emotional, mental, behavioral, and developmental issues. Many of these professionals focus on the chemical imbalances in the brain by assessing the mental and physical effects of a disorder.
People with mental conditions such as depression or bipolar disorder can seek help from a psychiatrist to help balance the chemical imbalance in their brain. A psychiatrist can conduct psychotherapy, prescribe medications, and perform medical treatments.
Licensed Marriage and Family Therapist (LMFT)
Licensed marriage and family therapists are mental health professionals and practitioners trained in psychotherapy and family systems. They are licensed to evaluate, diagnose, and treat mental and emotional disorders, health issues, behavioral issues, and a wide range of relationship dynamics within couples, marriage, and family systems.
People struggling with mental health and who need help resolving marital conflicts can seek counseling. On average, it only takes about 12 sessions before couples counseling is concluded. These treatments can help resolve issues and help reestablish a healthy family dynamic.
What Factors Should You Consider When Choosing Your Mental Health Provider?
If you're unsure what mental health provider best suits your needs, you can seek help from a medical professional in your area, and they can direct you. It would help to consider some factors when choosing your mental health provider.
Some factors you should consider include:
The level of care you need
If you have been diagnosed or show symptoms of a severe mental health condition
If you are currently taking mental health medication or think you may consider it
What your insurance provider will cover (if you are using insurance to pay)
The location of the mental health service
How you connect with the therapist.
Finding someone you connect with and trust is crucial. Since you're opening up about your struggles, you want to find someone you can trust to take you in the right direction. If you have certain preferences, like a BIPOC therapist or holistic mental health treatments, you should find someone that aligns with that.
Knowing the kind of care you want and need can help you avoid matching with the wrong mental health professional. You can use platforms like Ravel Mental Health to find the care you want.
Ravel Mental Health is an online platform that lets you find the therapist that suits your mental health needs. You can use the advanced filters to find professionals in your area that match the specialty you're looking for and their niche.
This platform works to decrease the number of therapist mismatches and pair you with exactly what you need. If you're ready to meet the therapist that helps you, we can help.
Are you ready for the next chapter of your mental health journey? Sign up for Ravel Mental Health today!