Therapy can be beneficial for everyone. However, everyone requires different types of treatment or therapy to be effective. This can include getting treated by a therapist who practices a specialty or even the treatment method, such as holistic therapy.
Getting treated can greatly improve your mental health, recovery, and daily life. And having a support system to accomplish this goal through therapy can keep you accountable for getting better.
While many people see therapists in individual sessions, some may benefit more from group therapy. Here's a guide on five unique benefits of group therapy and how you can find group therapy in your area.
Are you ready to find the right therapist for you? Sign up for Ravel Mental Health today!
Why Should You Seek Therapy?
Some people may have heard negative connotations about getting therapy. You may think that by getting help with your mental health, there is something inherently wrong with you. However, going to therapy is a way for you to have someone to talk to and improve your daily life.
When you go to therapy, you're choosing to invest in yourself. You're choosing to follow through on that motivation to improve your life. Therapy can be a great way for you to work through problems you're having in your life or change your habits to achieve the life you want.
If you're suffering from a mental health condition, going to therapy can help you practice exercises to help mitigate its impact on your life. When you're ready to get help to reach goals in your life, therapy can be the key to changing your life and keeping yourself accountable for that change.
What Is Group Therapy?
Group therapy is a form of psychotherapy in which clients meet with others in their community to discuss their problems together under the supervision of a therapist. It can be found in various locations, including private therapeutic practices, hospitals, mental health clinics, or community centers. Groups can be as small as three or four people, but sometimes there can be big group therapy sessions involving 12 individuals.
Many times, people can find group therapy sessions in their area with people needing help with the same thing or a mixed collection of issues that want to be solved.
Some therapists also recommend to their clients that they should go to group therapy on top of their individual sessions to get the benefits of getting help from their community.
Several types of group therapy can vary depending on what kind of treatment you're looking for. Some of the more common types of group therapy include:
Cognitive Behavioral Groups
Interpersonal groups
Psychoeducational groups
Skills Development Groups
Support Groups
Group therapy sessions can be either opened or closed. Open sessions mean that new participants are welcome to join at any time. Closed sessions are when a core group of members has invited someone to participate in the sessions.
How the sessions are conducted will vary for each group. Sometimes they will go around to each member every week, or some therapists may encourage a more free-form style of dialogue. You should find a group therapy that works with the type of session you'd like to be a part of.
What Can Group Therapy Help With?
Many mental health conditions can be treated through group therapy, including:
Attention-deficit/ hyperactivity disorder (ADHD)
Eating disorders
Generalized anxiety disorders
Panic disorder
Phobias
Post-traumatic stress disorder (PTSD)
Substance use disorder
Group therapy can also help people through problems that they face in their life. CBT-based group therapy has been found to help people cope with some issues such as:
Anger management
Chronic pain
Chronic illness
Chronic stress
Divorce
Domestic violence
Grief and loss
Weight management
Do you want to get help with your mental health? Sign up for Ravel Mental Health today to connect with a therapist.
What Are the Benefits of Group Therapy?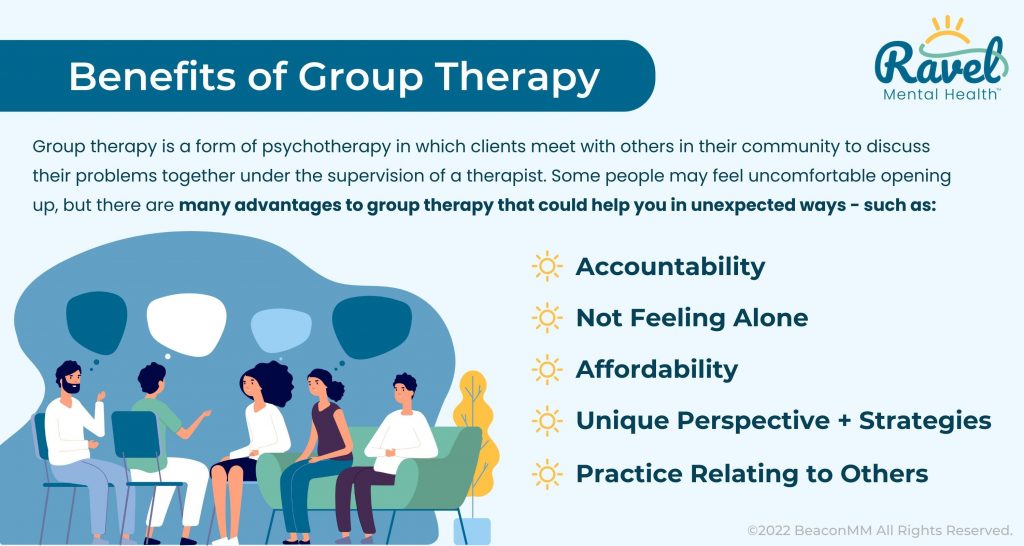 Some people may feel reserved about seeking treatment through group therapy because they're not comfortable opening up to many people. However, there can be many advantages to group therapy that could help you in unexpected ways. The following five elements are ways that you can benefit from group therapy.
1. Accountability
Following through on change can be extremely difficult. It's easy to sit back and not alter the behaviors, habits, or emotions that are negatively affecting your life or relationships. But, transformation is necessary to achieve the things you want to in life.
One of the greatest benefits of group therapy is accountability for your change. The therapist and the people within the group want to support you in your journey, which means they want to help keep you accountable for what you're trying to do. This can be taking actions to avoid negative experiences or marking the steps to repair a relationship with someone.
2. Not Feeling Alone
Having people around to listen to you means that others are there to support you. If you're struggling, then you know that other people in the group can be there to walk along with you on your journey.
It can make you feel less alone in your struggles if you're going to a group therapy session with people needing help with the same thing. You'll find yourself connecting with others on a deeper level because you're experiencing the same thing and more readily trusting each other for emotional support.
3. Affordability
Many people may be reserved about seeking therapy treatments because of how expensive therapy can be. However, there are many ways that you can make therapy affordable.
Group therapy can be an affordable way to get the help you need at a lower cost. Most sessions are a fraction of the cost because you're sharing the therapist's expertise with others in the group.
4. Unique Perspectives and Strategies
Going to group therapy can allow you to get other people's opinions on problems that you may be facing. This can mean that people in the group give you their opinions about how to solve the problem or ways that you can help mitigate the consequences of that problem.
If you're going to group therapy for a mental health condition affecting your life and are seeking ways to mitigate that, people within the group can offer solutions that work for them. It's a great way to gain different perspectives on why something may have occurred or strategies to help you cope with your experience.
5. Practice Relating to Others
A unique benefit that you can gain from group therapy is practicing relating to others. This can be great for you to learn how to help someone else in need and ways that you could validate and support them.
You can also gain insight into how you could be better treated by others and communicate that to people in your life. Practicing relating to others will help you strengthen relationships in your life and gain valuable support for your life.
How Can Ravel Mental Health Help You?
Ravel Mental Health can help you find group therapies in your area that could help you with problems that you're facing. It's an online platform that connects you with therapists to get the help you're looking for.
You can find therapists in your area that are exactly what you're looking for. When trying to book an appointment, you can do that directly through the platform and avoid the annoying phone tag it usually takes to schedule an appointment.
Don't wait to get the help you need. Ravel Mental Health is here to help you in a matter of minutes.
Are you ready to start your healing journey? Sign up for Ravel Mental Health today!